The Gift Shop
The Gift Shop is an independent retailer providing a diverse selection of quality gifts, collectables, jewellery and figurines and is perfectly based in the beautiful surroundings of Oulton Broad in Suffolk, which is part of the Broads National Park.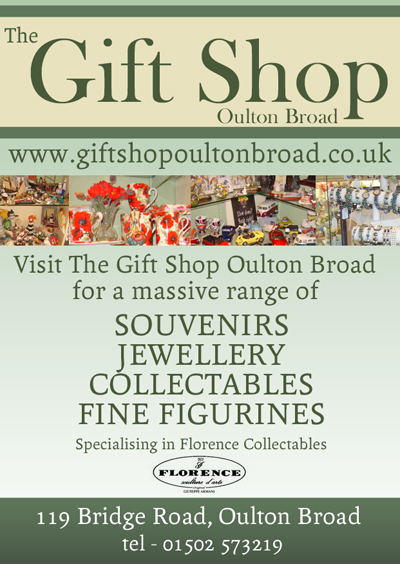 When you need a break from sunning yourself by the waterside come and visit The Gift Shop in Oulton Broad and check out the comprehensive range of gift ideas they offer. Wonderful items for all occasions, recipients and budgets. Whether it is a special something for a loved one, perhaps presents for birthdays, anniversaries or Christmas? Or just a treat for yourself, The Gift Shop are sure that after a browse through their range of gift ideas they provide the perfect answer.
They offer a wide range of quality holiday souvenirs ranging from pens, pencils, magnets and postcards to mugs, thimbles and tea towels and much more. Plus fudges, biscuits, preserves, sweets and rock, all with Oulton Broad designs and photography.
The Gift Shop sources its products from far and wide so you are sure to find lots of unusual gifts and things that you wont find elsewhere. Lots of items are made exclusively for The Gift Shop, plus they also have plenty of locally made items from local artists.
Hundreds of The Gift Shops products are available to buy online from their website at www.thetraditionalgiftshop.com and they offer worldwide delivery on everything.
You can also keep up to date with new products, special offers and competitions on The Gift Shops Facebook page.
The Gift Shop Contact Information:
The Gift Shop
119 Bridge Road
Lowestoft
Suffolk
NR33 9JU
Telephone Number 01502 573219
Website: The Gift Shop
View all Gift Shops in Lowestoft, Suffolk Here